2018 | OriginalPaper | Buchkapitel
23. Decision-Making Processes as Part of Administration in Chaotic and Non-chaotic Atmosphere in Educational Organizations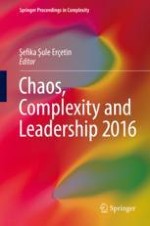 Erstes Kapitel lesen
Autor: Pınar Temoçin
Abstract
Decision making is without doubt an integral part of human life and institutional working, and as it is the case in any process pertaining to successful administration to be carried out in organizations, it has its own place within all the dimensions of an established hierarchy of any kind. Ashcraft (1998) (
Fundamentals of cognition.
New York: Longman) calls it the process of making decisions, a rather slower and more conscious part and aspect of cognitive thinking. It does entail, surely with countless other counterparts, rational thinking, reasoning, and envision; thus, decision making inevitably calls for a thorough analysis of any given situation, oftentimes, as well as meticulous evaluation of the future of the organization with all its differing entities. What is more, this frequently has to be realized in short periods of time. In addition to the aforementioned elements inherent in the very process, several other factors come into play during times of decision making such as relatively more subjective parameters like intuitional thinking and using what one's gut feeling signals.
In light of the relevant literature research, it is witnessed that the time when a decision is to be made, the person to make the decision and their certain characteristics, e.g., certain demographic features, and so on are all influential in the type and nature of the decision made. It is also observed that whether the decision is made at the time of a crisis belonging to a rather chaotic period impacts decision making to a degree.