2019 | OriginalPaper | Buchkapitel Open Access
12. Decision Scaling (DS): Decision Support for Climate Change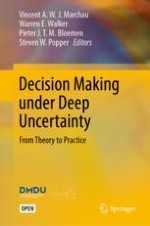 Autoren: Casey Brown, Scott Steinschneider, Patrick Ray, Sungwook Wi, Leon Basdekas, David Yates
Abstract
Adaptation planning and climate risk management are examples of decision processes made under climate uncertainty.

A variety of approaches exist for helping an analyst to evaluate alternatives over future unknown states of the world. However, climate uncertainty requires additional considerations, including how to use available climate information, such as climate change projections, to inform the decision process without overwhelming it.

Decision Scaling is specifically designed to support decisionmaking under climate uncertainty while it is general enough to address other uncertainties. The process is designed to make the best and most efficient use of uncertain but potentially useful climate change projections.

DS consists of three steps: Decision Framing, Climate Stress Test, and Estimating Climate-Informed Risks.

This is accomplished by using weather generator tools and systematic sampling algorithms to create an unbiased description of system response to plausible climate changes.

Climate information is incorporated as a sensitivity factor in the last stage of analysis for aiding the process of prioritizing risks or choosing among adaptation options through evaluation of probabilities of underperforming strategies and the need for adaptation.

An important benefit of using DS is the establishment of open lines of communication and trust among the analysts, decisionmakers, and representative stakeholders. This is achieved through frequent consultation and validation of models that will be used for the analysis.