2018 | OriginalPaper | Buchkapitel
Decision Support System for Marketing Metrics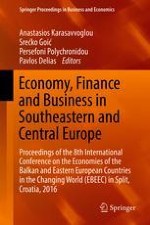 Erstes Kapitel lesen
Autoren: Sanja Bijakšić, Brano Markić, Arnela Bevanda
Abstract
The taxonomy of information systems oriented to decision-making and management describes decision support systems as one of the most complex. It provides support in making the right decisions for poorly structured and unstructured problems but can also be built for simple, routine tasks. The objectives of its building are "simplicity" of use and flexibility, "identification" and "description" of various business positions, and also proposal of an appropriate decision. The marketing metrics is a system of indicators about marketing mix elements: price, product, promotion, and distribution. Each indicator of marketing metrics "reveals" one of the components of the market and competitive position of the organizational system.
The building of the decision support system that enables "fast" identify market position of organizational system is an essential element of a successful marketing strategy and efficiency of decisions at the tactical and operational management level. For example, the price, as element of the marketing mix, determines the position of the organizational system in primary distribution and ultimately the speed of its development and profitability. Decision support system provides assistance for accurate positioning of the price level and has a direct impact on customer decisions about buying products or services and ultimately to competitiveness and market position of organizational systems.
The paper is based on the hypothesis that the theoretical and applicable knowledge about marketing metrics can be transferred in the form of decision support systems to help identify market position of organization system and the timely response to the "threat" from its environment but also the opportunities with final goal to increase the profitability and improve market positioning.
In the building of decision support systems except data stored in databases, data warehouses or data marts an appropriate data set has to be extracted that will be used to calculate the indicators of the elements of the marketing mix. Data set contains data or variables needed to calculate the benchmarks. The experimental results show only the segment of the decision support system that helps in calculating the benchmarks for prices (elasticity of sales regarding the price changes) and products (cannibalization rate). The paper uses Visual Studio 2012 development environment and the R programming language for the application of the model for calculating the benchmarks of marketing metrics.