01.06.2015 | Sonderheft 3/2015 Open Access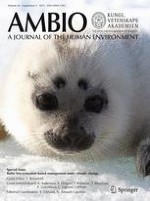 Declining coastal piscivore populations in the Baltic Sea: Where and when do sticklebacks matter?
Zeitschrift:
Autoren:

Pär Byström, Ulf Bergström, Alexander Hjälten, Sofie Ståhl, David Jonsson, Jens Olsson
Wichtige Hinweise
Electronic supplementary material
The online version of this article (doi:
10.​1007/​s13280-015-0665-5
) contains supplementary material, which is available to authorized users.
Abstract
Intraguild predation interactions make fish communities prone to exhibit alternative stable states with either piscivore or prey fish dominance. In the Baltic Sea, local declines of coastal piscivores like perch (
Perca fluviatilis
) have been observed to coincide with high densities of sticklebacks (
Gasterosteus aculeatus
). Mechanisms behind this shift between piscivore and stickleback dominance were studied both experimentally and in field. Results showed that predation by sticklebacks has a strong negative effect on perch larvae survival, but this effect rapidly decreases with increasing perch size, likely due to gape limitations and digestion constraints in sticklebacks. Large spatial and temporal variations in patterns of stickleback migration into perch spawning sites were observed. Whether or not high density of sticklebacks will cause declines in coastal piscivore populations is suggested to depend on the availability of spawning sites in which sticklebacks do not migrate into or arrive late in the reproduction season of coastal piscivores.