01.02.2020 | Ausgabe 2/2020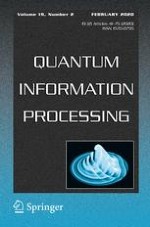 Decoy-state round-robin differential-phase-shift quantum key distribution with source errors
Zeitschrift:
Autoren:

Qian-Ping Mao, Le Wang, Sheng-Mei Zhao
Wichtige Hinweise
The paper is supported by the National Natural Science Foundation of China (Grant Nos. 61871234, 61475075, 11847062) and the Postgraduate Research & Practice Innovation Program of Jiangsu Province (Grant No. KYLX15-0832)
Publisher's Note
Springer Nature remains neutral with regard to jurisdictional claims in published maps and institutional affiliations.
Abstract
As a promising quantum key distribution (QKD), most of the existing round-robin differential-phase-shift quantum key distribution (RRDPS-QKD) protocols have adopted the decoy-state method and have assumed the source states are exactly controlled. However, the precise manipulation of source states is impossible for any practical experiment, and the RRDPS-QKD with source errors has an unignorable impact on the performance of the protocol. In the paper, we study the four-intensity decoy-state RRDPS-QKD protocol with source errors, formulate the secure generation key rate of the proposed protocol, and do the numerical simulations to testify the deductions. The results show that our evaluation can estimate the influence of source errors.