2017 | Supplement | Buchkapitel
5. Decreasing: Central Asia, Latin America, North America and Western Europe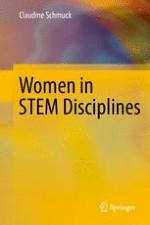 Erstes Kapitel lesen
Autor: Claudine Schmuck
Abstract
In Central Asia, as well as in Latin America and North America and Western Europe, the proportion of women who chose hard science among all scientific specializations is declining. In each of these three regions, the rationale which explains this decline is substantially different. As in Eastern and Central Europe, Central Europe still benefitted in 2003 from the historical legacy of the Soviet rule, whereby women and men had equal access to studies. Ten years ago, Central Asia even stood as one of the regions of the world where the proportion of women in STEM was among the highest. However, recent political and economical evolutions have strongly deteriorated the situation of women in this country; this is clearly reflected by the impressive decline of feminization in all scientific specializations which drops from 44 to 34 %. The proportion of women is cut down to 25 % in engineering and 29 % in manufacturing. However, in physics as well as in math and statistics, parity is maintained with respectively 53 % and 51 % of women among tertiary graduates. It is interesting to observe that according to results from PISA, girls' results both in science and math are equivalent to those of boys and that they do not feel a confidence gap.
In Latin America and the Caribbean, the analysis of the headcount evolution over the past 10 years reveals a decline of feminization both in EMC (engineering, manufacturing and construction) and in science, which results from higher growth rate of total number of graduates than that of female graduates. As a result the proportion of women decreases in manufacturing and construction (−2 % and 4 %, respectively). In science feminization drops from 44 to 39 %, with specializations such as math and computing experiencing sharp decline: −15 % in math and 13 % in computing. The analysis of PISA results provides, however, encouraging signals; boys' and girls' results which were among the lowest in the world are strongly improving between 2006 and 2012. In countries such as Brazil, Argentina and Chile, these improvements are contributing to reduce the gender gap. In addition girls from these countries express a higher level of confidence in themselves. These elements provide for a context where active public policies promoting STEM to girls could generate results quicker than in other regions.
The situation observed in North America and Western Europe is similar; as a result this region which had the highest proportion of women among tertiary STEM graduates in 2003 now ranks among the last ones. This comes from a low proportion of women in EMC which gains 2 % but still remains below 25 % and a sharp decline of women in science particularly in computing. A look at PISA results doesn't provide much positive elements. There is an increasing gender gap in 17 out of 21 countries between girls and boys in math; in addition girls' math level tends to diminish. In science with the exception of Northern Europe countries, boys outperform girls, and girls' level with the exception of five countries doesn't improve. In both math and science, the confidence gap is higher than the OECD average. Despite public policies the decline of the proportion of women among STEM graduates hasn't stopped. However, at a time when multidisciplinarity and transversal skills are viewed as critical skills to adjust/adapt to new jobs and new challenges, the fact that in 13 out of 24 countries the percentage of girls among top performers in math, science and reading is equal and/or higher than boys provides an encouraging sign.