01.12.2017 | Research | Ausgabe 1/2017 Open Access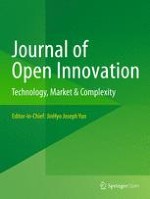 Dedicated innovation systems to support the transformation towards sustainability: creating income opportunities and employment in the knowledge-based digital bioeconomy
Autor:

Andreas Pyka
Introduction
In their 2015 book "The Triple Challenge for Europe: Economic Development, Climate Change, and Governance", Fagerberg et al. (
2015
) stress the interlinked character of the most severe economic problems – sustainability, unemployment and a dedicated future-orientation in policies. Economies confronted with crisis and stagnation can no longer apply traditional instruments to return to economic growth and prosperity without bearing the cost of irreversible damages of the environment. A simple
keep it up
is no longer possible. As a last resort to this thrilling global problem a fundamental transformation of economic production systems is suggested, which pushes economic development on a green growth trajectory (Mazzucato and Perez,
2015
).
For the required transformation of global production and consumption systems, which targets the twentieth century
lock-in in carbon-based technologies
(Unruh,
2000
) two broader technological concepts play outstanding roles:
(1) Digitalization and with it artificial intelligence and robots are supposed to increase massively the efficiency in production, thereby reducing the consumption of resources and frequently even completely replacing physical output by CO
2
-neutral digital output (
dematerialization
),
(2) and the so-called knowledge-based bioeconomy which replaces in many applications oil-based by bio-based materials. The knowledge-based bioeconomy focuses on a sustainable production and processing of biomass into a range of products encompassing food, health products, fiber and industrial products as well as energy. Basically, biomass is supposed to substitute for crude-oil. Renewable biomass includes any biological material from agriculture, forestry and animal-farming as a product in itself or to be used as an input in further production.
In order to set economic development on a sustainable development path, both technological trajectories need to merge into the knowledge-based digital bioeconomy. This way synergies are created which foster the required changes in production as well as consumption.
However, for a fundamental transformation, technological ingredients alone are not sufficient: To steer the transformation successfully, societies around the world have to place stronger emphasis on different types of innovation, which includes besides technological, also social, political and ecological innovations.
Social awareness of an endangered sustainability of production systems is not new. Since "The Limits of Growth" was published by the Club of Rome (Meadows et al.,
1972
), it is evident that fundamental changes are required to guarantee human survival on planet earth. In economics, on a purely theoretical level, two fundamentally different solution strategies for this thrilling problem can be distinguished: (i) conservation of resources by the abstinence of growth and (ii) decoupling of growth and resources employment. The supporters of the first approach (Blewitt and Cunningham,
2014
, Kallis et al.,
2014
) summarized under the headings of abstinence and downscaling follow the quantitative orientation of mainstream economics and claim a renunciation of a way of life that is based on consumption and increasing resource intensity. To reach a sustainable production the quantity of the employed resources has to be decreased massively. The second approach, embedded in Schumpeterian economics with its qualitative view on economic development, strongly emphasizes that innovations, market forces and structural change are not part of the problem, but have to be part of the solution. Creative solutions are able to fundamentally reform our economy in the sense of sustainability, thereby supporting the achievements of the UN objectives towards sustainable development (UN,
2015
) and ensuring growth and development at the same time (Mazzucato and Perez,
2015
). It is clear that this transformative direction of innovation processes cannot be expected to happen without a concerted action of all actors in an economy, namely firms, consumers and policy makers, which together constitute the actors of an innovation system.
Since quite a while, leading researchers in innovation economics (Dosi et al.,
1988
; Lundvall,
1992
,
1998
; Nelson,
1993
) emphasize the systemic character of innovation. So-called
innovation systems
consist of different actors (companies, research institutions, political actors, consumers etc.) and linkages between these actors (flows of goods, R&D cooperations, knowledge transfer, user-producer-relationships etc.) as well as institutions, which all are to be coordinated in this transformation. The linkages are required to ensure mutual learning and knowledge development in order to explore potential paths of the sustainability transformation. Such systems are characterized by their dynamic and co-evolutionary nature and thus are enormously complex. A transformation towards sustainability requires coordination and adaptive management of such a system, in particular of the interactions, of mutual learning processes to spur cross-fertilization between different knowledge fields and most important to develop competences to deal with fundamental uncertainty (Knight,
1921
), which is much higher compared to an
exploitation-oriented
innovation system in non-transformative periods. As a heuristic for explicitly incorporating the systemic (co-)creation of normative and transformative knowledge by all relevant agents in innovation systems, we adopt the new notion of
D
edicated
I
nnovation
S
ystems
(DIS) (Pyka,
2017
). DIS explicitly go beyond technological innovation and economic growth and allow for paradigmatic change towards sustainability: They are "dedicated" to foster the joint search for transformative innovations. In other words, the proposed conception of DIS implies that the predominant focus of innovation systems on economic competitiveness needs to step back behind the global societies' imperative of sustainability.
The focus of DIS is systemic innovation by continuously re-thinking highly uncertain and path-dependent developments. It calls for experimentation and cross-fertilization, and may be hindered among others by incumbent power relations, network structures, and free-riders. Just as responsible innovation (e.g., von Schomberg,
2012
,
2013
; Stilgoe et al.,
2013
, Schlaile et al.,
2017
b) seeks to involve societal demands and ethical requirements in innovative activities, a dedicated systemic innovation needs to take all relevant actors on board for negotiating goals and solution strategies. This approach, which targets radical transformations of existing institutions and routines, would surely not reach the required high priority on a policy and research agenda if an established research community steered by current politics in line with the powerful incumbent industries takes the lead – simply because the currently powerful usually have little interest to change anything and run into danger to replace themselves. Therefore, DIS requires besides technological innovation a smart integration of social innovations to increase the extent of positively affected citizens and thereby their willingness to contribute to the transformation in order to overcome the inertia of the oil-based paradigm.
A particular opportunity for an increasing involvement is endogenous to the knowledge-based bioeconomy: Due to the high importance of the production of biomass, the knowledge-based bioeconomy is full with opportunities for periphery agriculturally dominated areas, which so far did not participate sufficiently in economic growth and development. The discovery of these opportunities will strongly support the breadth of supporters. Furthermore, as a transformation towards sustainability will not work without fundamental structural changes, DIS require a vision, which takes care of the non-linearities, uncertainties and unavoidable surprises of complex development. A linear extrapolation of the current status very likely will generate devastating expectations, which finally prevent the desired transformation. The discussion on the future of labor which increasingly will be replaced by robots and artificial intelligence (e.g. Rifkin,
1995
) certainly has such a potential to decrease the broad acceptance of a DIS. Such a discussion is based on linear extrapolations in a standard textbook manner ignoring qualitative changes emphasized by Schumpeterian innovation economics.
In this paper we will outline the idea of DIS together with the application of a knowledge-based digital bioeconomy. Furthermore, the effects of digitization on labor markets are analyzed by taking care of structural changes. For this purpose, in section 2 the role and meaning of DIS is described. Section 3 deals with social innovation and the possibilities of innovation networks to create new opportunities in periphery regions. Section 4 highlights the connections between digitalization and the knowledge-based bioeconomy and emphasizes the meaning of structural change for employment projections. Section 5 summarizes and develops further research questions.
Dedicated innovation systems (DIS)
Generating opportunities for participatory development with social innovations
The first example deals with the implementation of an entrepreneurial attitude into the young population in rural Mexico. A local development agency with the aim to support social entrepreneurship in the rural area started working with young farmers. The aim was to develop their entrepreneurial abilities in early stages of their lives. Learning processes generate most promising results and strengthen productive, technological, and entrepreneurial competences with younger participants. The project RANCH EGGS was designed in 2007 and consists of forming groups of children between 12 and 18 years old, which together produce eggs for self-consumption and commercialized surplus. Already in 2008, in total, 65 children from seven periphery communities participated, and several poultry units were built up. Over time the number of participants and the amount of production was strongly increasing. Three years later, in 2011, 240 children in nine communities participated. And in 2012, 274 participants from 11 communities produced in total 460.000 eggs. In 2014, 427 young farmers produced on average 1400 eggs per farm (more than 500.000 eggs in total) and they keep 3.600 hens. With this production size substantial new income opportunities were generated and the young entrepreneurs sell their eggs today to hotels and restaurants. RANCH EGG is a convincing example of how entrepreneurial attitudes create new income and strengthens social resilience – this promising result was achieved with relatively simple instruments, which create new links among young farmers and the development agency in order to foster the knowledge transfer and help to build up entrepreneurial competences (Sampedro and Vera-Cruz, 2016).
The second example shows how bioeconomy applications can strengthen social resilience in periphery regions, which suffered from migration because of missing income opportunities. Stevia is a sweetener plant with growing production all over the world, which can be used as a sugar substitute. Several applications, mainly in the food and beverage sector are already existing and the respective industry is interested in developing a product portfolio allowing to meet the demand of consumer for healthier products. The Mexican agricultural company GAVIA specialized in the production and technological development of different hybrid varieties of stevia and a researcher of UAM Xochimilco's 'department of human and his environment' started a research project to develop and adapt stevia plants to different Mexican regions, in particular close to the U.S. border. The company's development was heavily supported by this university-industry cooperation. The university as the main partner provided scientific and technological knowledge, training for technicians and involved students in this research on processes around the production, marketing and application of stevia. Meanwhile, the fast growing company GAVIA has developed an innovation network which integrates 11 firms. Each firm is specialized in different parts of the stevia production: development and production of fertilizers, management of organic products, pest control, commercialization, human resources training, research and development. With these activities and the Stevia production, new income opportunities and employment were developed, which finally stopped the migration of young males into the U.S. We take this as a successful example to illustrate the benefits of academic-industry linkages and how knowledge production drives economic growth and development in specific Mexican bioeconomy sectors.
The third example from Mexico City deals with social entrepreneurship which supports the diffusion of a technology which is suited to improve water supply in the city and to create new jobs for craftsmen. The company ISLA URBANA, founded in Mexico City in 2009, is offering a likewise simple technology to collect rainwater. The company's system of rainwater harvesting and its adaption to the regional economic context and infrastructure, ranges from simple systems to treat water for irrigation use (domestic activities) to systems that allow conversion into drinking water. Today, ISLA URBANA operates in various periphery and excluded communities; it uses inexpensive materials and simple equipment (e.g. water tanks acquired in the same communities and developed in cooperation with the community), generating easily manageable technologies appropriated by the beneficiaries. So far, the company has installed more than 2.600 systems with more than 18.500 beneficiaries and 280 million liters of harvested rain water.
The fourth example connects the knowledge based bioeconomy with the generation of new income opportunities in university-industry-farmer networks. The AXOLOTL, an indigene amphibian which lives in the lakes around Mexico City was endangered by the pollution of the city. Therefore, university researchers from UAM developed a process to artificially breed the animal. In this research it turned out that the animal allows for promising applications in dermatological pharmacy, which brings in pharmaceutical companies. Today, local farmers breed the Axolotl in the outskirts of the city and sell the animals to the pharmaceutical companies. Besides the new income opportunities and the positive effect on social resilience, biodiversity is maintained and new biological compounds for pharmacological purposes became available.
The fifth and final example deals with an university-industry-farmer innovation network in engineering. Many of the Mexican inshore waters suffer from pollution by the WATER LILY, which is a pest plant rapidly spreading out on water surfaces and restricting shipping. Process engineers from UAM developed a technology to use the water lily as a resource in the paper and pulp industry. The pest plant is now harvested by local farmers, who sell it profitably to companies in the respective industry. Besides the new income opportunities, this innovation network is responsible for an improvement of the water quality in the lakes, reduces costs of shipping and introduces a new and cheap resource to the pulp and paper industry.
These cases from Mexico are not the result of any national or regional government initiative. They are bottom up processes in self-organized innovation networks which generate special, regional applicable knowledge to locally exploit the potentials from a knowledge-based bioeconomy. They also show the potential of the bio-based transformation to combine technological and social innovation with social resilience. Most important, all the cases are inclusive in the sense that lower income groups in peripheral regions develop new income opportunities and participate in these knowledge driven developments. The emergence of the new sectors within agriculture and mostly in periphery regions displaces established resource- and energy-intensive established productions on a regional level. This exemplarily shows the transformative and structural change inducing power of small dedicated innovation systems. The focus of these DIS is simultaneously on economic, technological, social and ecological improvements.
However, in emerging countries a conflict between economic growth and ecological sustainable development is still dominating the discussion. For a number of reasons, politicians from emerging economies put rather emphasis on traditional industrialization than on bioeconomy technologies and sustainable development. However, knowledge-based and sustainable agriculture or renewable energy sources in Mexico are emerging as drivers of a new path of sustainable development. In particular, knowledge-based and sustainable agriculture can help to connect local farmers to the national innovation system and foster also processes of social inclusion and overcome the inertia of established production systems.
Employment development and structural change
In this transformation towards sustainability the exploration of economic complementarities in terms of cross-fertilization of different knowledge fields strongly matters. The greenhouse gas and resource saving impact of the knowledge-based bioeconomy are considerably aggravated by the second major technological trend, namely digitalization, which allows for an extension of value chains by increasing the added value in new sustainable production sectors in a CO2-neutral way (e.g., by electric mobility based on renewables, by development of smart grids, reducing transport etc.). For consumption digitalization opens up large opportunities to organize effective sharing-economy platforms, which contribute considerably to saving resources.
"The mechanization of agriculture vaporized millions of jobs and drove crowds of unemployed farmhands into cities in search of factory work. Later, automation and globalization pushed workers out of the manufacturing sector and into service jobs. Short-term unemployment was often a problem during these transitions, but it never became systemic or permanent. New jobs were created and dispossessed workers found new opportunities. What's more, those new jobs were often better than earlier counterparts, requiring upgraded skills and offering better wages".
Secondly, in the 'structurally lower' scenario, some jobs are destroyed by robots, but (a proportional part of the) displaced employees can be re-educated to find a job in other and possibly new sectors. One argument in favor of this scenario is that technological advances in new sectors stifle, if education cannot foresee the necessary skilled workers. As such, education in fact moderates the pace of technological progress. Note that the 'structurally lower' levels of employment may also be because the number of hours worked per week may further decline.
Thirdly, in the 'rebound' scenario, after a shock due to the massive structural changes in the transformation process towards sustainability, the level of unemployment returns to a 'regular' rate of frictional unemployment. Just like in the 'structurally lower' scenario, education moderates the pace of technological progress, but employees can catch up faster than technology can progress, in particular they find employment in the new emerging industries. Obviously, in this scenario the emergence of a DIS will find broad acceptance among broad social groups.
Conclusions
In order to leave the current path (e.g., massive C02 emissions, overconsumption and energy intensive and oil-based production systems) and head towards a more sustainable direction, the world needs fundamental transformations of local as well as global systems, including social, economic, and cultural ones. For this purpose, we have introduced the new notion of Dedicated Innovation Systems (DIS) as an overarching framework for transformations towards sustainability. DIS go beyond exploitation-oriented Innovation systems because they attempt to achieve a dynamic balance between demand driven technology pull, science and market driven technology push, and social innovation moderating social and ethical considerations (Seidler and Bawa,
2009
). Social and ethical considerations add the dedication to innovation systems and help to overcome inertia due to potential entitlements of established actors. In DIS social resilience and broad participation in economic development play an outstanding role to gain momentum for the fundamental transformation.
The dematerialization and efficiency increasing aspects of digitalization together with the substitution of oil-based materials by bio-based materials of the knowledge-based bioeconomy offer opportunities to switch to a green growth trajectory. Despite strongly decreasing employment in traditional industries due to a rationalization triggered by automation, robots and artificial intelligence, the overall employment trend is likely to be positive in the long run because of the new sectors emerging in the knowledge-based bioeconomy and in the so-called quaternary sector, which comprises new applications in the digital economy like sharing-economy platforms etc.
To set the emergence of a DIS into motion is by far not a simple task. We are confronted with the management of a
complex adaptive system
(Seidler and Bawa,
2009
), which requires the management and coordination of extensive interactions in innovation networks, permanent adaptation due to unavoidable surprises in knowledge development because of the immanent strong uncertainty, non-linearities generating positive feedback effects, which might cause phase transitions responsible for emergent properties of the system and various other amplifying effects. However, the purpose of a DIS exactly is to support a fundamental transformation of the world production and consumption systems, which is nothing else than a phase transition from a present day's point of view. So amplifying effects, gaining momentum and managing transition processes at bifurcation points are the genuine activities to be originated in DIS.
To improve our understanding of designing and governing DIS many questions are not yet answered. Among others:
Concerning societal systems: How can participative elements (e.g., stakeholder engagement in innovation) for a transition towards sustainability be fostered?

Concerning economic systems: How can sustainable scientific and technological development under uncertainty be governed and designed, and by whom?

Concerning cultural systems: How can a cultural evolution towards more sustainable (consumption) habits (e.g., sharing economy) and changes in behavior (e.g., socially responsible consumption) be facilitated?

Concerning economic theory: What are the crucial societal, economic, and cultural "tipping points" in DIS that shape qualitative transitions in complex systems?

And concerning the conceptual level: How can coordination problems between societal, economic, and cultural elements of DIS be coordinated?
Contributing to an answer of these questions is on our agenda for future research.
Competing interests
The author declares that he has no competing interests.
Publisher's Note
Springer Nature remains neutral with regard to jurisdictional claims in published maps and institutional affiliations.
Open Access
This article is distributed under the terms of the Creative Commons Attribution 4.0 International License (
http://​creativecommons.​org/​licenses/​by/​4.​0/​
), which permits unrestricted use, distribution, and reproduction in any medium, provided you give appropriate credit to the original author(s) and the source, provide a link to the Creative Commons license, and indicate if changes were made.