24.12.2017 | Ausgabe 3/2018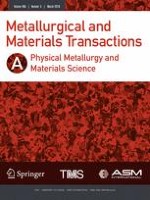 Deformation Behavior and Evolution of Microstructure and Texture During Hot Compression of AISI 304LN Stainless Steel
Zeitschrift:
Autoren:

Matruprasad Rout, Somjeet Biswas, Ravi Ranjan, Surjya Kanta Pal, Shiv Brat Singh
Wichtige Hinweise
Manuscript submitted March 5, 2017.
Abstract
Deformation behavior of hot-rolled AISI 304 LN austenitic stainless steel was studied by hot axisymmetric compression tests at 1173 K, 1273 K, and 1373 K (900 °C, 1000 °C, and 1100 °C) at strain rates of 0.01, 0.1, and 1 s−1. The flow curves were examined to understand the deformation characteristics. The influence of Zener–Holloman parameter was analyzed using appropriate constitutive models. The activation energy for deformation was found to be 473 kJ/mol. Quantitative microstructural analysis was carried out using Electron backscattered diffraction. Compression at 1173 K (900 °C) at all true strain rates gave rise to partially dynamic recrystallized microstructure with strong α-fiber texture. The deformation texture is characterized by the formation of Brass component, and partial dynamic recrystallization (DRX) led to the development of Goss, S, and ube components. Necklace structure of small equiaxed recrystallized grains could be observed surrounding the large, elongated deformed grains. Compressions at 1273 K and 1373 K (1000 °C and 1100 °C) resulted in fully recrystallized microstructure consisting of mostly Σ3 and Σ9 coincidence site lattice high-angle boundaries. Compression at 1273 K (1000 °C) leads to the formation of low-intensity diffused α-fiber. DRX was confirmed by the presence of Goss, S, Cube, and rotated Cube components. Compression performed at 1373 K (1100 °C) resulted in nearly random texture with traces of α-fiber and prominent Cube/rotated Cube components. The microstructures of the 1173 K (900 °C)-compressed samples were partitioned using grain size and misorientation criteria to quantify DRX.