04.05.2017 | ORIGINAL ARTICLE | Ausgabe 1/2018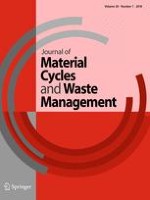 Degradation of anhydride-cured epoxy resin using simultaneously recyclable solvent and organic base catalyst
Zeitschrift:
Autoren:

Lipeng Zhang, Jie Liu, Weidong Nie, Kai Wang, Yanhui Wang, Xiuyun Yang, Tao Tang
Abstract
Alkaline catalyst is usually used for solvolysis of thermoplastic and thermoset polymers containing ester bonds. However, inorganic catalyst is difficult to remove from products of resin degradation. Here, we reported an efficient and mild degradation method using an organocatalyst,
N
-methyl-4-piperidinol, in ethylene glycol to degrade methylcyclohexene-1,2-dicarboxylic anhydride (MeTHPA)-cured epoxy resin.
N
-Methyl-4-piperidinol and ethylene glycol were simultaneously recovered by vacuum distillation. The effects of reaction temperature and catalyst concentration on the reaction rate and kinetics of the degradation reaction were analyzed. The recovery and reuse of ethylene glycol and the catalyst for three cycles were also demonstrated. The degradation products from the epoxy resin were identified by electrospray ionization-mass spectrometry (ESI-MS), and a transesterification mechanism for the degradation of epoxy resin was proposed.