01.11.2017 | Original Article | Ausgabe 22/2017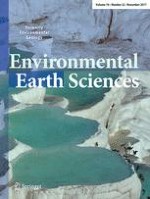 Degradation of Mollisols quality after deforestation and cultivation on a transect with Mediterranean condition
Zeitschrift:
Autoren:

Salar Rezapour, O. Alipour
Abstract
In order to assess the impact of deforestation—cultivation on soil quality attributes of Mollisols under native forest, 8 soil pedons and 32 soil cores were described and sampled from four different soil types of forest and adjacent cultivated soil on a transect. Deforestation and subsequent cultivation have resulted in a remarkable change in the morphological and physicochemical soil properties, thereby contributing to extensive land degradation through nutrient depletion and poor physical conditions. Without significant variation, 14–20% higher bulk density and 10–22% lower porosity were observed in the cultivated soils compared to those of the forest lands which have, in turn, contributed to the structural deterioration of the cultivated soil. A pronounced depletion has occurred at the values of organic carbon (60–85%), total N (67–88%), cation exchange capacity (9–18%), and exchangeable cations (4–60%) after deforestation—cultivation showing a degrading and declining effect of deforestation on soil fertility indices. Changes in particle-size distribution and mainly organic matter of soils due to deforestation were responsible for a significant increase in the values of soil erodibility factor
or K
-
factor
(a rise of 10–270%). The natural forest promoted remarkably the expansion of smectite (peak of 18.2 Å) toward illite (peak of 10 Å) in a
K
incorporation context compared to the cultivated soil based on X-ray patterns. Soil quality index, evaluated based on 14 soil attributes, revealed that deforestation led to a negative change in the index for all soil types ranging from 18 to 43%.