2019 | OriginalPaper | Buchkapitel
5. Delay-Time Models for Multi-unit Technical Systems Working in Various Reliability Structures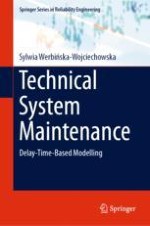 Erstes Kapitel lesen
Autor: Sylwia Werbińska-Wojciechowska
Abstract
The objective of this Chapter is to present delay-time based maintenance models for multi-unit systems performing in various reliability structures (series, parallel, n
k
-out-of-n types) for the two cases of perfect and imperfect inspection performance. First, the necessity of the DT modelling for multi-unit systems performing in various reliability structures is discussed. The research gap is underlined and structure of the Chapter is presented. Moreover, preliminary simulation DT models are characterized. They focus on availability and maintenance costs of technical systems performing in series and non-series structures with perfect and imperfect inspection. Their sensitivity analysis is carried out and main results are discussed. Moreover, first decision rules for maintenance managers are specified. Later, the short overview of recent developments on delay-time based maintenance modelling for systems in non-series reliability structures is presented and structure for the next Sections is given. In Sect.
5.2
new analytical delay-time maintenance models are developed. The implemented maintenance policy bases on Block Inspection policy implementation and the analytical model is presented for the perfect inspection case. The solution is based on renewal reward theory use and is given for the first inspection cycle. The main decision variable is the time period between successive system inspection actions performance Tin, while the purpose of the developed model is to estimate the expected maintenance cost per unit of system time. As a result, the main assumptions for the DT models are defined. This gives the possibility to obtain the main reliability functions for the modelled system performing in various reliability structures. Later, the expected maintenance cost model is introduced. Section
5.3
provides the reader with extended delay-time maintenance models for systems performing in two reliability structures—series and parallel ones. The analysed system is a two-component system (including component A and component B). The main assumptions are defined and compatible with the ones determined in Sect.
5.2
. The main difference is connected with the possibility of planned and unplanned inspection actions performance during the time interval (0,
T
in
). First, the number of event scenarios is presented and analysed. Later, the probability functions of system failure and preventive replacement are presented. This gives the possibility to obtain the expected maintenance cost model. In the next Sections the author discusses and analyses the possibilities of use of the obtained simple delay-time based maintenance models for determining the best inspection time interval. First, the convergence of the chosen analytical model with the simulation model is given. Later, the optimization modelling issues are discussed and the new cost coefficient is proposed. The Chapter is completed by concluding remarks that contain the most important conclusions obtained from the performed research developments.