01.04.2015 | Ausgabe 2/2015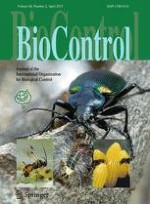 Demographic parameters of the insecticide-exposed predator
Podisus nigrispinus

: implications for IPM
Zeitschrift:
Autoren:

Ancidériton A. de Castro, Júlio César M. Poderoso, Rafael C. Ribeiro, Jesusa C. Legaspi, José E. Serrão, José C. Zanuncio
Wichtige Hinweise
Handling Editor: Stefano Colazza.
Abstract
The predator
Podisus nigrispinus
(Dallas) (Heteroptera:Pentatomidae) shows potential for Integrated Pest Management programs of defoliating caterpillars in agricultural and forestry systems. Insecticides can indirectly affect caterpillar predators through consumption of treated prey. We examined the survival, reproductive and demographic parameters of the predator
P. nigrispinus
fed on caterpillars of
Anticarsia gemmatalis
(Hübner) (Lepidoptera: Erebidae) fed on soybean leaves previously exposed to four insecticides widely used in this crop, chlorantraniliprole, deltamethrin, methamidophos and spinosad. Caterpillars of
A. gemmatalis
were fed for 12 h with treated soybean leaves and offered to adults of
P. nigrispinus
over five consecutive days. Spinosad and methamidophos were proved not compatible with
P. nigrispinus
in IPM programs in the soybean agro-ecosystem. Deltamethrin showed low toxicity to
P. nigrispinus
. However, further data may be necessary to recommend it for IPM. Chlorantraniliprole can be considered the most promising because of low toxicity to this predator.