2019 | OriginalPaper | Buchkapitel
16.
Demoi

-cracy: A Useful Framework for Theorizing the Democratization of Multilevel Governance?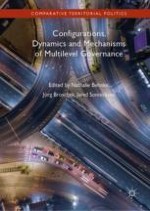 Erstes Kapitel lesen
Autoren: Achim Hurrelmann, Joan DeBardeleben
Abstract
The concept of
demoi
-
cracy
has gained prominence in democratic theory, especially in applications to the European Union. This chapter explores whether it can inform scholarship on multilevel governance (MLG). The chapter starts by taking stock of challenges that MLG implies for democracy. It then reviews theories of
demoi
-cracy to assess how they address these challenges. The discussion reveals ambiguities in
demoi
-cratic theorizing, which are spelled out by distinguishing four variants: (1)
demoi
-cracy as consociationalism, (2)
demoi
-cracy as variable multilateralism, (3)
demoi
-cracy as network governance, and (4)
demoi
-cracy as multi-venue contestation. In principle,
demoi
-cracy—particularly in its fourth understanding—has the potential to make a valuable contribution to MLG scholarship, by highlighting the embeddedness of MLG in overlapping political communities and providing normative guidelines for the reconciliation of conflicting democratic objectives. However, the concept must be further specified, in dialogue with MLG approaches, to allow for this potential to be realized.