2019 | OriginalPaper | Buchkapitel
1. Demystifying China's Stock Market: The Hidden Logic Behind the Puzzles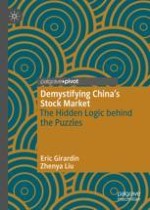 Autoren: Eric Girardin, Zhenya Liu
Abstract
Mainstream research has rationalized China's stock market on the basis of paradigms such as the institutional approach, the efficient market hypothesis, and corporate valuation principles. The deviations from such paradigms have been analysed as puzzles of China's stock market. However, "research on China's financial system should avoid over-applying research paradigms developed for the US setting" (Carpenter and Whitelaw, The Development of China's Stock Market and Stakes for the Global Economy. Manuscript, New York Stern School of Business, June 2017). We will explore to what extent, far from being puzzles, these 'deviations' are rather the symptoms of a consistent strategy for the design, development, and regulation of a government-dominated financial system with Chinese characteristics.
The main characteristics of the Chinese stock market stem from its historical origins, development process and internal logic. The earliest Shanghai stock market appeared around 1865. It was foreign dominated both for issuers and investors, who were mostly individuals. China's modern stock market largely inherited the speculative character of the early stock market.
The most striking feature of the modern market is government domination. The government aims at using the stock market to solve the long-term financing problem of state-owned enterprises. Therefore, this stock market is very different from the stock market of developed countries, generating the so-called "puzzles" in Westerners' views. The dominance of political economy features, involving multiple principals, and the large gap between advanced regulations and poor enforcement, are the major sources of incompleteness of the Chinese stock market.