01.06.2011 | Ausgabe 11/2011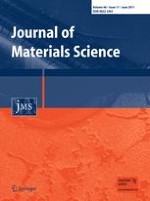 Densification of (Na,K)NbO3 piezoelectric ceramics by two-step mixing process
Zeitschrift:
Autoren:

Satoru Ishihara, Ken-ichi Kakimoto, Isao Kagomiya
Abstract
Lead-free Na
0.5
K
0.5
NbO
3
(NKN) piezoelectric ceramics were sintered with a new process, "two-step mixing process," in which a part of alkali source powders was initially preserved and mixed with the rest matrix powders after the calcinations step. As a result, the sintering of NKN ceramics was improved, and the sample sintered at 1082 °C with the initial preservation ratio (
R
A
) of 5% demonstrated the highest density of ρ = 4.38 g/cm
3
(97.1% of the theoretical density), compared with ρ = 4.36 g/cm
3
(96.7% of the theoretical density) for the non-preservation specimen (
R
A
= 0%). The former sample showed the best piezoelectric constant of
d
33
= 125 pC/N and electromechanical coupling coefficient of
k
p
= 0.42, while the latter sample had
d
33
= 116 pC/N and
k
p
= 0.37. These results indicated that the two-step mixing process was effective for the sintering of lead-free NKN ceramics, despite no sintering additive and cold isostatic pressing were used.