01.06.2015 | Ausgabe 6/2015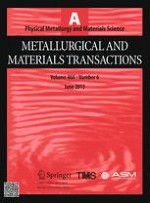 Density Determination of Liquid Copper and Liquid Nickel by Means of Fast Resistive Pulse Heating and Electromagnetic Levitation
Zeitschrift:
Autoren:

Alexander Schmon, Kirmanj Aziz, Gernot Pottlacher
Wichtige Hinweise
Manuscript submitted October 21, 2014.
Abstract
Fast resistive pulse-heating techniques and electromagnetic levitation techniques are capable of determining thermophysical properties of metals in the liquid phase. These properties have become increasingly important as input data for modern numerical simulations. Among others, density is a very relevant parameter for
e.g.
, casting modeling. Density determinations of copper and nickel in their liquid states are performed using a fast resistive pulse-heating setup and a recently build up electromagnetic levitation apparatus. Both methods use optical imaging techniques to determine thermal expansion of the specimen under investigation, but are operating at very different experimental durations. The pulse-heating setup provides a heating of the sample using it as part of an electrical discharge circuit. Heating rates of 10
8
K/s lead to experimental durations of about 60
µ
s. Temperature is determined by measuring surface radiance emitted from the sample by a pyrometer. The sample's thermal expansion is monitored by an adapted CCD camera system. The electromagnetic levitation apparatus enables noncontact investigations of samples by levitating and heating them by an induction coil generating inhomogeneous electromagnetic fields. Temperature again is determined by a pyrometer. For thermal expansion determination, shadowgraph images are recorded with a high-speed CCD camera and evaluated with an edge detection algorithm. Thermal expansion then is calculated by averaging several 1000 frames for each temperature point. Investigations of copper and nickel in the liquid state were performed with both techniques and are compared to each other and to literature values.