08.03.2018 | Original Paper | Ausgabe 4/2018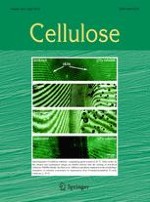 Dependence of dissolution, dispersion, and aggregation characteristics of cationic polysaccharides made from euglenoid β-1,3-glucan on degree of substitution
Zeitschrift:
Autoren:

Motonari Shibakami, Tadashi Nemoto, Mitsugu Sohma
Wichtige Hinweise
Electronic supplementary material
Abstract
Dissolution, dispersion, and aggregation characteristics of 2-hydroxy-3-trimethylammoniopropyl polysaccharides made from β-1,3-glucan extracted from
Euglena
(referred to as paramylon) differing in the degree of substitution (DS) of a 2-hydroxy-3-trimethylammoniopropyl group were examined. Freeze-dried solids made from cationic paramylon derivatives with a DS ranging from 0.07 to 0.16 spontaneously formed crystalline nanofibers upon being mechanically stirred in water. Derivatives with a DS greater than 0.31 lacked similar fiber formability. Nevertheless, they formed a distinctly outlined, transparent thin film featuring a nanometer-level flat surface using an aqueous solution casting method in which water is gradually removed from the aqueous homogeneous solution and a methanolic solution casting method featuring rapid removal of methanol from a heterogeneous solution. Those that had a DS less than 0.06 lacked solution solubility and dispersibility; they formed a thin film from a heterogeneous solution. These results demonstrate that cationic paramylon derivatives can be used as a constituent of well-organized polymeric materials.