29.09.2016 | Ausgabe 4/2017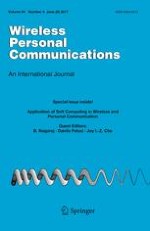 Design and Analysis of Super-Formula-Based UWB Monopole Antenna and its MIMO Configuration
Zeitschrift:
Autoren:

Shaimaa Naser, Nihad Dib
Abstract
In this paper, the design and analysis of a nature inspired UWB antenna is carried out. The contour profile of the antenna is obtained by setting the six different parameters of the
super
-
formula
. The antenna is microstrip-fed and mounted on compact size FR4 substrate of dimensions of 25 × 35 × 1.6 mm
3
. To improve the impedance bandwidth, a notch is cut from the ground plane and the edges are chamfered with specific dimensions. The antenna is simulated using a full-wave simulator and then fabricated and tested. Results showed that simulation and measurements are in a good agreement, and the antenna works in the UWB range (3.1–10.6 GHz) with VSWR less than 2. Also, it exhibits good advantages of being compact and having almost constant gain and group delay. To further increase the capacity and improve the reliability, two similar antennas are placed beside each other to have a MIMO configuration. The proposed MIMO antenna is also fabricated and tested.