01.06.2017 | Research Paper | Ausgabe 6/2017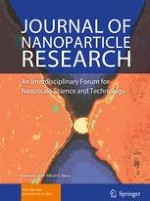 Design and development of hyaluronan-functionalized polybenzofulvene nanoparticles as CD44 receptor mediated drug delivery system
Zeitschrift:
Autoren:

Mariano Licciardi, Cinzia Scialabba, Gaetano Giammona, Marco Paolino, Vincenzo Razzano, Giorgio Grisci, Germano Giuliani, Francesco Makovec, Andrea Cappelli
Wichtige Hinweise
Mariano Licciardi and Cinzia Scialabba contributed equally to the production of this paper.
Abstract
A tri-component polymer brush (TCPB
)
, composed of a polybenzofulvene copolymer bearing low molecular weight hyaluronic acid (HA) on the surface of its cylindrical brush-like backbone and oligo-PEG fractions, was employed in the preparation of 350 nm nanostructured drug delivery systems capable of delivering the anticancer drug doxorubicin. The obtained drug delivery systems were characterized on the basis of drug loading and release, dimensions and zeta potential, morphology and in vitro cell activity, and uptake on three different human cell lines, namely the bronchial epithelial 16HBE, the breast adenocarcinoma MCF-7, and the colon cancer HCT116 cells. Finally, the ability of doxorubicin-loaded TCPB nanoparticles (DOXO-TCPB) to be internalized into cancer cells by CD44 receptor mediated uptake was assessed by means of uptake studies in HCT cells. These data were supported by anti-CD44-FITC staining assay. The proposed TCPB nanostructured drug delivery systems have many potential applications in nanomedicine, including cancer targeted drug delivery.
×