01.09.2013 | Original Article | Ausgabe 3/2013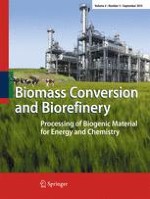 Design and simulation of an organosolv process for bioethanol production
Zeitschrift:
Autoren:

Jesse Kautto, Matthew J. Realff, Arthur J. Ragauskas
Wichtige Hinweise
Electronic supplementary material
The online version of this article (doi:
10.​1007/​s13399-013-0074-6
) contains supplementary material, which is available to authorized users.
Abstract
Organosolv pulping can be used as a pretreatment step in bioethanol production. In addition to ethanol, organosolv pulping allows for the production of a pure lignin product and other co-products. Based on publicly available information, conceptual process design and simulation model were developed for an organosolv process. The simulation model was used to calculate the mass and energy balances and approximate fossil-based carbon dioxide (CO2) emissions for the process. With a hardwood feed of 2,350 dry metric tons (MT) per day, 459 MT/day (53.9 million gallons per year) of ethanol was produced. This corresponded to a carbohydrate to ethanol conversion of 64 %. The production rates of lignin, furfural, and acetic acid were 310, 6.6, and 30.3 MT/day, respectively. The energy balance indicated that the process was not energy self-sufficient. In addition to bark and organic residues combusted to produce energy, external fuel (natural gas) was needed to cover the steam demand. This was largely due to the energy consumed in recovering the solvent. Compared to a dilute acid bioethanol process, the organosolv process was estimated to consume 34 % more energy. Allocating all emissions from natural gas combustion to the produced ethanol led to fossil CO2 emissions of 13.5 g per megajoule (MJ) of ethanol. The total fossil CO2 emissions of the process, including also feedstock transportation and other less significant emission sources, would almost certainly not exceed the US Renewable Fuel Standard threshold limit (36.5 g CO2/MJ ethanol).