29.07.2017 | Original Paper | Ausgabe 10/2017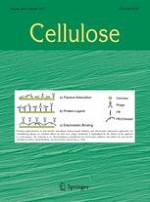 Design of cellulose–alginate films using PEG/NaOH aqueous solution as co-solvent
Zeitschrift:
Autoren:

Alexandra Ioana Cernencu, Adriana Lungu, Diana Dragusin, Andrada Serafim, Eugeniu Vasile, Cristina Ionescu, Horia Iovu
Wichtige Hinweise
Alexandra Ioana Cernencu and Adriana Lungu contributed equally to this work.
Abstract
In this work, a novel poly(ethylene glycol) (PEG)/NaOH system was successfully applied as a co-solvent for two naturally occurring polysaccharides, cellulose (Cel) and sodium alginate (Alg), to obtain biopolymeric films. Different amounts of Cel and Alg were dissolved in aqueous mixtures of PEG and NaOH, cast onto a glass plate, and cross-linked using a combination of physical and chemical cross-linking via a well-controlled experimental procedure. The resultant films were further characterized to investigate the influence of both the PEG chain and the Cel/Alg feed ratio on their swelling kinetics and their spectral, thermal and morphological features. The Cel/Alg hydrogels were characterized by rheological measurement to evaluate their mechanical strength in the fully hydrated state. The experimental results show that the synthesized films exhibit interesting properties in both the water-swollen condition and dried state. The features are highly reliant on the PEG molecular weight used and on the Cel/Alg ratio. Considering the flexibility, stability and mechanical strength in the wet state, Cel/Alg-derived films could serve as suitable substrates for various engineering applications.