29.09.2016 | Original Paper | Ausgabe 3/2017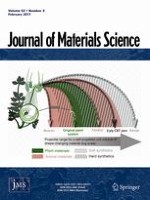 Design of Cu–Ce co-doped TiO2 for improved photocatalysis
Zeitschrift:
Autoren:

Yongjin Luo, Yuxian Xu, Xinping Liu, Hun Xue, Qingrong Qian, Qinghua Chen
Abstract
The fast recombination of photo-generated conduction band electrons (
e
cb
−
) and valance band holes (
h
vb
+
) of TiO
2
results in an unsatisfactory photocatalytic performance for organic degradation. To increase the efficiency of charge separation, TiO
2
was modified by Cu–Ce co-doping considering the better redox properties of copper–ceria oxide with respect to the single oxide, i.e., an easier electron capturing ability. An optimal Cu–Ce co-doped TiO
2
with the initial molar ratio of Cu/Ce at 3:1 was prepared by a hydrothermal method with the aim to greatly promote the charge separation, and characterized by XRD, BET, DRS, PL, HR-TEM, and XPS techniques. Upon ultraviolet light irradiation, it exhibits significantly enhanced photocatalytic activity, about 5.8 times that of Ti–HF. The presence of Cu
2+
and Ce
3+
/Ce
4+
benefits electrons captured by molecular oxygen, while an increased hydroxyl groups upon Cu–Ce co-doping consume more holes, resulting in prolonged lifetime of photo-generated carriers. Moreover, it is proved that electron transfers preferably from conduction band (CB) of TiO
2
to CB of CuO and then to nearby CeO
2
.