27.02.2018 | Ausgabe 5/2018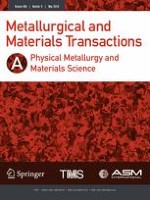 Design of Online Spheroidization Process for 1.0C-1.5Cr Bearing Steel and Microstructure Analysis
Zeitschrift:
Autoren:

Zhen-Xing Li, Chang-Sheng Li, Jin-Yi Ren, Bin-Zhou Li, Dong-Woo Suh
Wichtige Hinweise
Manuscript submitted May 8, 2017.
Abstract
Using thermo-mechanical control process, the online spheroidization annealing process of 1.0C-1.5Cr bearing steel was designed. Apart from intercritical online spheroidization (IS), a novel subcritical online spheroidization (SS) process was proposed, which is characterized by water-cooling to around 773 K (500 °C) after the final rolling pass, and then directly reheating to 973 K (700 °C) for isothermal holding. Compared with the results from the traditional offline spheroidization (TS) process, the size of spheroidized carbides is similar in both the TS and IS processes, whereas it is much smaller in the SS process. After spheroidization annealing, microstructure evolution during austenitization and quenching treatment was examined. It is shown that the refining of spheroidized carbides accelerates the dissolution of carbides during the austenitizing process, and decreases the size of undissolved carbides. In addition, the SS process can obtain finer prior austenite grain after quenching, which contributes to the enhancement of final hardness.