2006 | OriginalPaper | Buchkapitel
Design of Variable-Stiffness Composite Panels for Maximum Buckling Load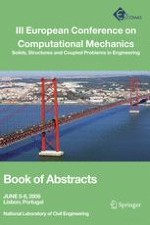 Erstes Kapitel lesen
Autoren: Mostafa M. Abdalla, Shahriar Setoodeh, Zafer GÜrdal
Verlag: Springer Netherlands
Design of constant-stiffness composite laminates for maximum buckling load is well studied in the literature. Using gradient based optimization methods, laminate thickness and total number of layers are often kept fixed and optimum fiber angles are sought such that the buckling load is maximized. Although significant increase in the buckling load can be obtained through tailoring composite panels with straight fibers, the potential of fibrous composites is not fully exploited. A new concept for the design of fibrous composites, known as variable-stiffness panels, was introduced in the late eighties [
2
]. Instead of straight fiber paths, the fiber paths are allowed to be arbitrary curves. Ideally, by varying the fiber steering geometry, the stiffness properties at each point in the panel can be independently varied. The additional freedom in locally tailoring the stiffness properties means that the performance of variablestiffness panels can be highly improved over constant-stiffness (straight fibers) panels. However, this additional freedom comes at the price of having significantly enlarged design space.
In the present study, we extend the generalized reciprocal approximation approach of Abdalla et al. [
1
] to buckling design of variable-stiffness panels. In the standard reciprocal approximation, the objective function is expanded in a Taylor series in terms of reciprocal variables. Reciprocal variables are traditionally defined as the reciprocals of the design variables. The present generalized reciprocal approximation is obtained by expanding the buckling load in terms of the inverse tensor of the stiffness tensor, commonly known as the compliance tensor. Such an approximation has the important property of being a
separable
approximation. In order to update the design for the next iteration, we maximize the reciprocal approximation of the buckling load. Because of the separability, the maximization can be carried out at each node separate from the others. This makes the algorithm particularly suited to parallel computations. The sensitivity analysis is performed exactly using an adjoint method which requires only one back substitution using an already factored left hand side (the inplane stiffness used in the buckling analysis) with a different right hand side to compute the sensitivities for all design variables.
A conforming CLPT finite element is used for the buckling analysis of rectangular plates and the proposed reciprocal approximation is used to update fiber orientation angles at each FE node. Numerical results obtained for rectangular plates show that improvements up to 40% can be achieved in the buckling load using a variable-stiffness design.