03.01.2018 | Ausgabe 3/2018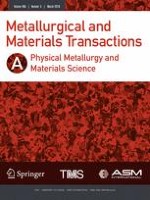 Design of Wear-Resistant Austenitic Steels for Selective Laser Melting
Zeitschrift:
Autoren:

J. N. Lemke, R. Casati, N. Lecis, C. Andrianopoli, A. Varone, R. Montanari, M. Vedani
Wichtige Hinweise
Manuscript submitted July 26, 2017.
Abstract
Type 316L stainless steel feedstock powder was modified by alloying with powders containing carbide/boride-forming elements to create improved wear-resistant austenitic alloys that can be readily processed by Selective Laser Melting. Fe-based alloys with high C, B, V, and Nb contents were thus produced, resulting in a microstructure that consisted of austenitic grains and a significant amount of hard carbides and borides. Heat treatments were performed to modify the carbide distribution and morphology. Optimal hard-phase spheroidization was achieved by annealing the proposed alloys at 1150 °C for 1 hour followed by water quenching. The total increase in hardness of samples containing 20 pct of C/B-rich alloy powder was of 82.7 pct while the wear resistance could be increased by a factor of 6.