2010 | OriginalPaper | Buchkapitel
14. Design Science in the Management Disciplines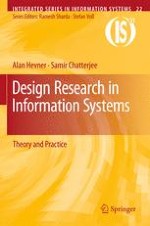 Erstes Kapitel lesen
Autoren: Salvatore T. March, Timothy J. Vogus
Verlag: Springer US
Abstract
Design science and natural science are complementary research paradigms in the management disciplines. Fundamentally the task of management is to develop, articulate, and achieve organizational goals and purposes. Design science research addresses that task by creating novel and effective artifacts that are demonstrated to improve managers' capability to change "existing situations into preferred ones" (Simon (1996), p. 130). Natural science research addresses it by developing theories that provide deep, principled explanations of phenomena, justified by rigorous empirical evidence that managers can use to guide their actions. Designed artifacts have no special dispensation from the laws of nature; however, business organizations and the environments in which they operate are social constructions (Searle, J. R. (2006) Social ontology: some basic principles,
Anthropological Theory
6 (1), pp. 12–29). They are themselves
artifacts
designed to achieve human goals, purposes, and intentions, influenced by and operating within the context of emergent and intentional human behavior. Furthermore, natural science explanations of how or why an artifact works or does not work may lag years behind the application of the artifact. If academic research is to make significant contributions to management practice it must utilize the results from each paradigm to guide the other. There is evidence that this integration is beginning to take place in several management disciplines including information systems and organizational science. This paper summarizes and assesses this emerging work.