01.08.2013 | Ausgabe 7-8/2013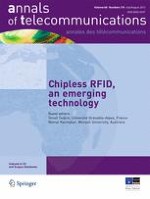 Detection and identification of objects based on radio-frequency signatures
Zeitschrift:
Autor:

Somnath Mukherjee
Abstract
Radio-frequency-based
intelligent proximity sensors
for detection as well as identification of objects were presented. A resonant structure is constructed that creates a near field with three-dimensional extent in the same order of magnitude as the physical size of the objects to be detected and identified. As an object is brought within the extent of the near field, a redistribution of electric and magnetic fields take place, modifying the reflection coefficient (i.e., impedance) of the resonant structure monitored through a port. The object under test, with its own natural frequencies, perturbs the resonant frequency of the monitoring structure to create a unique set of natural frequencies (poles and zeros). These poles and zeros, depending on the size, shape, material composition, and orientation, constitute the RF signature of the object and can be determined from the measurement of reflection coefficient. This technique can be used to create smart shelves for automated inventory without the need for tagging, as well for a variety of security applications. The technique can be used for metallic and non-metallic objects, as well as for a combination thereof. The basic principle is illustrated by way of electromagnetic simulation, and implementation of a smart tray using the principle is presented.