2019 | OriginalPaper | Buchkapitel
Detection of Exudates and Removal of Optic Disk in Fundus Images Using Genetic Algorithm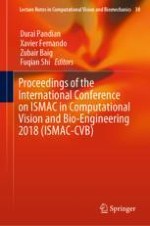 Erstes Kapitel lesen
Autoren: K. Gayathri Devi, M. Dhivya, S. Preethi
Abstract
Diabetic retinopathy is one of the serious and sight-threatening complications of diabetics. The main symptom of diabetic retinopathy is the presence of exudates that results in yellow flecks due to the fluid that has seeped out of damaged capillaries. This causes the tissue in the retina to distend, resulting in hazy or unclear vision. If they are left untreated, diabetic retinopathy can cause blindness. Hence, segmentation of exudates is vital process in retinal pathologies. The proposed work involves accurate segmentation of exudates from the retinal fundus images. Initially,
K-
means clustering is applied on the retinal images to separate the exudates and optic disk. Genetic algorithm is used for the accurate segmentation of the exudates in which the fitness function is calculated to perform crossover between the segmented images obtained from the
K
-means clustering segmentation. Before performing the mutation process, the grayscale image is converted into the RGB channels. These three-segmented channels are further combined by the mutation process to obtain the genetic algorithm output. High-intensity region is determined to be the exudates and the low intensity is said to be the optic disk. The elimination of the optic disk which has the same intensity as that of the exudates is performed using watershed segmentation. Finally, the parameter validation is done after the morphological operations. This method was implemented in 10 images downloaded from CHASE and STARE database and the accuracy has been improved to 94% compared with the existing approaches.