02.01.2017 | Methodologies and Application | Ausgabe 7/2018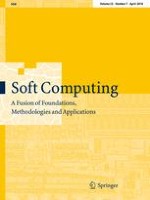 Detection of Web site visitors based on fuzzy rough sets
Zeitschrift:
Autoren:

Javad Hamidzadeh, Mahdieh Zabihimayvan, Reza Sadeghi
Abstract
Despite emerging of Web 2.0 applications and increasing requirements to well-behaved Web robots, malicious ones can reveal irreparable risks for Web sites. Regardless of behavior of Web robots, they may occupy bandwidth and reduce performance of Web servers. In spite of many prestigious researches trying to characterize Web visitors and classify them, there is a lack of concentration on feature selection to dynamically choose attributes used to describe Web sessions. On the other hand, depending on an accurate clustering technique, which can deal with huge number of samples in a reasonable amount of time, is practically important. Therefore, in this paper, a new algorithm, fuzzy rough set–Web robot detection (FRS-WRD), is proposed based on fuzzy rough set theory to better characterize and cluster Web visitors of three real Web sites. External evaluations show that in contrast to state-of-the-art algorithms, FRS-WRD achieves better results in terms of
G
-mean 95%, Jaccard 88%, entropy 0.36, and finally, purity 96%. Moreover, according to confusion matrixes, it can better detect malicious Web visitors.