01.08.2014 | Ausgabe 2/2014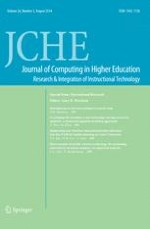 Determinants of mobile wireless technology for promoting interactivity in lecture sessions: an empirical analysis
Zeitschrift:
Autoren:

Chin Lay Gan, Vimala Balakrishnan
Abstract
The aim of this paper is to identify adoption factors of mobile wireless technology to increase interactivity between lecturers and students during lectures. A theoretical framework to ascertain lecturers' intentions to use mobile wireless technology during lectures (dependent variable) is proposed with seven independent variables. The independent variables were ease of use and usefulness from Technology Acceptance Model; trust from Wireless Internet via Mobile Devices model and Mobile Services Acceptance Model; self-efficacy from Social Cognitive Theory; enjoyment from Motivational Model; social influence from Unified Theory of Acceptance and Use of Technology; and uncertainty avoidance from Geert Hofstede's cultural dimensions (Hofstede et al. in Cultures and organizations: software of the mind, 3rd edn. McGraw-Hill, New York,
2010
). Four lecture observations were conducted and interaction barriers identified. Interviews with 22 selected lecturers were conducted to elicit perceptions of mobile wireless technology use during lectures and validate the framework's variables. Interview results from thematic analysis strongly validated mobile wireless technology's usefulness as a supporting, collaboration and real-time interaction tool, especially among introvert students. Ease of use, self-efficacy and enjoyment are supported through familiarity with mobile wireless technology. Majority of the respondents are apprehensive that mobile wireless technology might cause disruptions during lectures, with concerns of redundancy, dependency and misuses amongst students (attributes of uncertainty avoidance). None of the respondents are currently using mobile wireless technology for interaction during lectures, thus lending credence to social influence. Very few respondents agree that use of mobile wireless technology can reduce students' boredom and make lectures more enjoyable, and few perceive intermittent wireless connection will affect user trust. Knowledge of significant mobile wireless technology adoption factors and concerns may be important and applicable to tertiary education in Malaysia.