28.02.2017 | Original Paper | Ausgabe 10/2017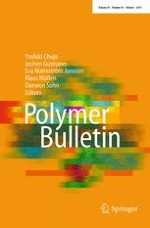 Determination of 3,4-dihydroxyphenylacetic acid in the presence of ascorbic acid and uric acid at poly(
p

-aminobenzene sulfonic acid) conducting polymer electrode
Zeitschrift:
Autoren:

Ebru Kuyumcu Savan, Gamze Erdoğdu
Abstract
Poly(
p
-aminobenzene sulfonic acid) [poly(
p
-ABSA)] modified glassy carbon electrode (GCE) was used for the simultaneous determination of ascorbic acid (AA), 3,4-dihydroxyphenylacetic acid (DOPAC) and uric acid (UA). The polymer film was grown on GCE by the cyclic voltammetry method in the potential range from −1.5 to +2.5 V at a scan rate of 50 mV s
−1
for 14 cycles in 0.1 M KCl solution containing 5 mM
p
-ABSA. The anodic peaks for AA, DOPAC and UA at the poly(
p
-ABSA)/GCE were resolved in phosphate buffer solution (pH 7.0). On the other hand, the electro-oxidation peak current of AA, DOPAC and UA showed linear dynamic range, good stability and sensitivity. The linear range of DOPAC is over four orders of magnitude (
R
2
= 0.998). The detection limit of DOPAC is 2.96 × 10
−7
mol L
−1
. The proposed method and electrode have been successfully applied for the determination of DOPAC in urine and blood serum samples and pharmaceutical tablets, demonstrating the stability and reliability of the proposed method and electrode.