27.07.2019 | Research Paper | Ausgabe 1/2020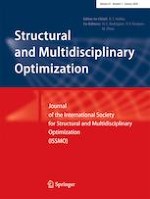 Determination of sample size for input variables in RBDO through bi-objective confidence-based design optimization under input model uncertainty
Zeitschrift:
Autoren:

Yongsu Jung, Hyunkyoo Cho, Zunyi Duan, Ikjin Lee
Wichtige Hinweise
Responsible Editor: Erdem Acar
Publisher's note
Springer Nature remains neutral withregard to jurisdictional claims in published mapsand institutional affiliations.
Abstract
Reliability analysis accounting for only randomness of input variables often shows a significant error due to the lack of knowledge and insufficient data in the real world. Confidence of reliability indicates that the reliability has uncertainty caused by epistemic uncertainties such as input statistical model and simulation model uncertainties, and these uncertainties can be reduced and manipulated by additional knowledge. In this paper, uncertainty of input statistical models prevailing due to limited resources in practical applications is mainly treated in the context of confidence-based design optimization (CBDO). The purpose of this research is to estimate the optimal sample size for input variables in reliability-based design optimization (RBDO) to reduce the overall cost incorporating development cost for collecting samples. There are two ways to increase the confidence of reliability to be satisfied: (1) shifting the design vector toward feasible domain and (2) supplementing more input data. Thus, it is essential to find a balanced optimum to minimize the overall cost accounting for trade-off between two operations, optimally distributing the resources to the operating cost of the design vector and the development cost of acquiring new data. In this study, two types of costs are integrated into a bi-objective function, and the probabilistic constraints for the confidence of reliability need to be satisfied. Since the sample size for input variables is also included in the design variables to be optimized, stochastic sensitivity analysis of confidence with respect to the sample size of input data is developed. As a result, the proposed bi-objective CBDO can provide the optimal sample size for input data estimated from the initial data. Then, the designers are able to decide the number of tests for collecting input samples according to the optimum of the bi-objective CBDO. In addition, the different optimal sample size for each input variable can be an indicator of which random variables are relatively important to satisfy the confidence of reliability. Numerical examples and an engineering application for the multi-scale composite frame are used to demonstrate the effectiveness of the developed bi-objective CBDO.