01.04.2020 | Thematic Issue | Ausgabe 8/2020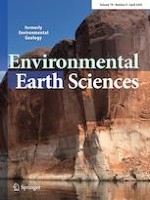 Determination of the groundwater-leakage mechanism (binary mixing) in a karstic dam site using thermometry and isotope approach (HPP Visegrad, Bosnia, and Herzegovina)
Zeitschrift:
Autoren:

Ljiljana Vasić, Saša Milanović, Anita Puskás-Preszner, Laszlo Palcsu
Wichtige Hinweise
This article is a part of a Topical Collection in Environmental Earth Sciences on Sustainable Management of Karst Natural Resources, guest edited by Drs. Sasa Malinovic and Zoran Stevanovic.
Publisher's Note
Springer Nature remains neutral with regard to jurisdictional claims in published maps and institutional affiliations.
Abstract
This paper presents a study of karst conduit genesis as well as establishing a groundwater circulation model: an isotopic approach for revealing binary mixing of cold and the thermal water underlying hydropower plant (HPP) at Visegrad, Bosnia, and Herzegovina. The study was conducted with the aim of water-leakage mechanism in the porous karst. Before the first filling of the HPP Visegrad reservoir, water from springs downstream of the dam had a temperature of 19 °C with a discharge capacity of around 0.5 m3/s. After the reservoir had been filled, the elevated hydrostatic pressure started increasing the discharge rate from 1.4 m3/s in the first year of HPP Visegrad operation, up to 15 m3/s after 20–22 years with a temperature decreasing of 7–9 °C in average. After large and expensive remediation works, the leakage effect was decreased to a discharge rate of 3.5 m3/s with an increase of the temperature to 14–15 °C. The main purpose of this paper has been to define a binary-mixing mechanism for disjunction cold (reservoir water) and thermal groundwater (deep aquifer) discharge capacity. Besides temperature modeling, environmental tracers (2H, 18O, 3H, 3H/3He apparent age, noble gases, and carbon isotopes [13C, 14C]) have been used to identify different components in the leakage water and deep thermal water. According to these analyses, water discharge from the same springs can be divided into three different types (regarding age) as: young water component (age of 0 year), an older part of young water component (age of about 30 years), and old water component (age above 1000 years). Based on all data percentage share, the total discharge amount of two older components of thermal water is around 15%, while that of water leaking directly from the reservoir was 85%.