01.02.2020 | Ausgabe 2/2020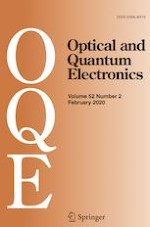 Determination of the kinetic parameters of glycerol diffusion in the gingival and dentinal tissue of a human tooth using optical method: in vitro studies
Zeitschrift:
Autoren:

A. A. Selifonov, V. V. Tuchin
Wichtige Hinweise
This article is part of the Topical Collection on Fundamentals of Laser Assisted Micro- and Nanotechnologies.
Guest edited by Tigran Vartanyan, Vadim Veiko, Andrey Belikov and Eugene Avrutin.
Publisher's Note
Springer Nature remains neutral with regard to jurisdictional claims in published maps and institutional affiliations.
Abstract
Due to the significant development of various optical technologies and methods used both for non-invasive diagnostics of biological tissues and for optimizing the protocols of photodynamic therapy, photothermal destruction, optical biopsy, tomography, etc., the problem of increasing of the light penetration depth into biological tissues is urgent, which is solved by the use of immersion agents, including hyperosmotic agents, such as glycerol. Moreover, the determination of the quantitative characteristics of the diffusion of immersion agents in biological tissues is important. In this work, we determined the effective diffusion coefficient of 99.5% glycerol in the tissue of the gingival mucosa and human dentin in vitro, which amounted to (1.78 ± 0.28) × 10−6 cm2/s (5.86 ± 0.40) × 10−7 cm2/s. The method is based on recording the kinetics of changes in the diffuse reflection spectra and applying the free diffusion model.