01.08.2016 | Thematic Issue | Ausgabe 16/2016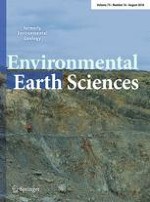 Determination of the thermal conductivity of sandstones from laboratory to field scale
Zeitschrift:
Autoren:

Jin Luo, Jia Jia, Haifeng Zhao, Yongqiang Zhu, Qinghai Guo, Chaojie Cheng, Long Tan, Wei Xiang, Joachim Rohn, Philipp Blum
Wichtige Hinweise
This article is part of a Topical Collection in Environmental Earth Sciences on "Subsurface Energy Storage II" guest edited by Zhonghe Pang, Yanlong Kong, Haibing Shao and Olaf Kolditz.
Abstract
For an optimum design of borehole heat exchangers (BHE) of ground-source heat pump systems, the thermal properties of the ground have to be determined. Thermal properties are typically estimated or measured in the laboratory or in the field. However, the determined values might deviate depending on the scale of observation. Thus, it is important to investigate scale effects. This study determines the thermal conductivity determination of silty sandstone from laboratory to field scale. Thermal conductivity and thermal capacity varying with water saturation are initially investigated in the laboratory. Results show that thermal conductivity increases obviously with increasing water saturation. In addition, effective thermal conductivity of the ground is estimated by a thermal response test in field resulting in a thermal conductivity (
λ
) of 1.84 W/m K. By comparison with the laboratory results (
λ
= 2.23 W/m K), the field-derived thermal conductivity shows lower values indicating a scale effect. Microscope image and wave velocity are also studied to investigate the structure of the sandstone. These results indicate that there exist a large numbers of fractures in the silty sandstone, implying that the thermal response test is largely affected by these fractures. Hence, the scale effects should be carefully considered in evaluation of thermal conductivity in particular for fractured porous rocks.