17.02.2018 | Ausgabe 3/2018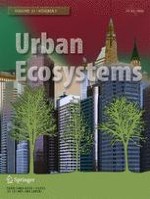 Determining species specific nightly bat activity in sites with varying urban intensity
Zeitschrift:
Autoren:

Sarah A. Schimpp, Han Li, Matina C. Kalcounis-Rueppell
Wichtige Hinweise
Electronic supplementary material
Abstract
Time of peak bat activity during the night differs among bat species due to temperature, prey availability, habitat availability, and/or interactions between species. Habitat availability is altered in urban areas, which may affect insect prey availability and interspecies interactions. Our objectives were to use mobile acoustic monitoring to determine when bat species were active in a single night in urban and nonurban sites and if nightly bat activity patterns differed in urban versus nonurban sites. Bat echolocation call sequences were recorded using Anabat acoustic detectors while driving transects through the night at five sites (three "urban" and two "nonurban") located in the Piedmont region of north-central North Carolina from May through August 2016. Transects were driven three times per night starting 45 min, 180 min, and 300 min after sunset. Recorded echolocation call sequences were analyzed manually using AnalookW and automatically using Bat Call Identification and Echoclass software. Total bat activity was not different between urban and nonurban sites. However, total bat activity was lower later in the night in urban sites, but stayed the same in nonurban sites. Species specifically, there were more
Eptesicus fuscus
,
Lasionycteris noctivagans
, and
Tadarida brasiliensis
call sequences and fewer
Lasiurus borealis
,
Nycticeius humeralis
, and
Perimyotis subflavus
call sequences in urban sites than nonurban sites. There were also fewer
E. fuscus
,
L. noctivagans
, and
N. humeralis
call sequences later in the night in both urban and nonurban sites. Only
Lasiurus borealis
activity in urban sites later in the night reduced and
L. borealis
activity in nonurban sites remained at the same. These results suggest that bats in urban areas partition time differently, which is important to consider for urban conservation efforts and planning.