01.03.2015 | Ausgabe 3/2015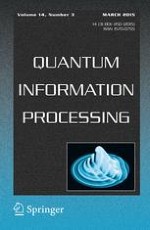 Deterministic generations of quantum state with no more than six qubits
Zeitschrift:
Autoren:

Ming-Xing Luo, Song-Ya Ma, Yun Deng, Xiaojun Wang
Abstract
The ability to prepare arbitrary quantum state is the holy grail of quantum information technology. Previous schemes focus on circuit complexity using implicit decomposition schemes for global evolutions and are difficult in quantum experiments because the generation circuit can be completed for given coefficients each time. One protocol is firstly proposed in this paper in order to deterministically generate arbitrary four-qubit states with any coefficients. In order to complete this scheme with present physical techniques, we present an explicit quantum circuit with unknown coefficients of prepared states using elementary quantum gates. The key of our scheme is constructing the Cartan KAK decomposition of special transformations in
\(SO(4)\)
and
\(SO(8)\)
. And then, this protocol is extended to arbitrary five-qubit states and six-qubit states.