01.07.2013 | Ausgabe 7/2013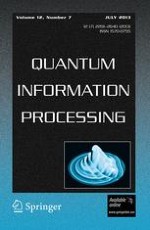 Deterministic single-qubit operation sharing with five-qubit cluster state
Zeitschrift:
Autoren:

Shengfang Wang, Yimin Liu, Jianlan Chen, Xiansong Liu, Zhanjun Zhang
Abstract
Perfect sharing of arbitrary single-qubit operation (PSASQO) with shared entanglements and LOCC is focused. A symmetric three-party PSASQO scheme is put forward by utilizing the five-qubit cluster state proposed by Briegel and Raussendorf (Phys Rev Lett 86:910,
2001
). Some concrete discussions on the scheme are made, including its important features, the essential role of the quantum channel, its direct generalization to more-party cases, the problem of entanglement structure and its application perspective in some peculiar quantum scenario as well as its security analysis. Particularly, the experimental feasibilities of the scheme and its generalizations are demonstrated, i.e., showing the employed unitary operations are local and accessible single-qubit Pauli and two-qubit control NOT operations according to nowaday experimental techniques.