Erschienen in: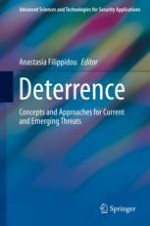 2020 | OriginalPaper | Buchkapitel
Deterrence: Concepts and Approaches for Current and Emerging Threats
verfasst von : Anastasia Filippidou
Erschienen in: Deterrence
Abstract
By exploring and analysing the complexities associated with the development and application of the concept of deterrence in resolving conflicts, this chapter sets the context of the book. Deterrence has to do with maintaining the status quo by convincing an opponent or ally that the cost of an unwanted action is greater than the rewards. Deterrence, on the one hand can act as a delaying mechanism in dealing effectively with opponents, in which case the aim would be to contain a conflict and the focus is zero-sum and more short term. On the other, deterrence can have the role of a proactive mechanism, where the focus is longer term. To be able however, to make shifts from zero-sum to a positive-sum the deterring party needs to be aware of context specific variables such as the opponent's values' system, the mind-set, and decision making processes. Routinely, mirror-imaging influences decision making leading states to develop deterrence policies with limited impact and effectiveness, as deterrence requires an understanding of the other's as well as one's own motives, objectives, and decision-making processes. Mirror-imaging leads to questionable assumptions about opponents' values and how they will behave under pressure.