2015 | OriginalPaper | Buchkapitel
Developing an Ontology for Autonomous Entities in a Virtual Reality: The PRESTO Experience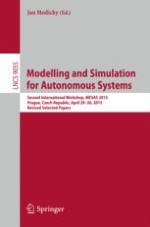 Autoren: Paolo Busetta, Mauro Fruet, Piero Consolati, Mauro Dragoni, Chiara Ghidini
Abstract
The PRESTO project focuses on modeling the behaviour of humans and rational entities in general (e.g. animals, vehicles with a human driver), specifically to represent decision making driven by norms or doctrine as well as culture and emotional factors. PRESTO's models are used to drive NPCs (Non-Player Characters) in serious games, currently applied to emergency management and training in health environments (hospitals and such) even if the technology is not domain- nor game-specific.
A number of requirements have led to the adoption of ontologies as the main classification and annotation mechanism of both the external world and the internal states of an NPC. Structuring and building these ontologies have been done by adopting a mixed top-down and bottom-up approach. The main results are (1) a top-level ontology inspired by the well-known DOLCE; (2) the structuring of the ontologies in composable domain-specific and individual sections; (3) a tool for the semi-automatic extraction of categories from the available virtual reality assets.
This paper focuses on the ontology design, illustrated with a few practical examples.