2020 | OriginalPaper | Buchkapitel
7. Developing into Obedience?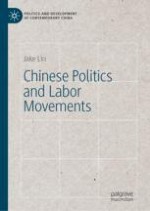 Erstes Kapitel lesen
Autor: Jake Lin
Abstract
In this chapter extends from previously ethnographic studies to analysis drawing on statistics and survey to show a bigger picture about the working class's psyche of resistance. It focuses on several areas such as workers' social trust, understanding of democracy and politics, class identity, and class solidarity. Resonating with the ethnographic studies discussed in the previous chapters, this chapter confirms the new Chinese working class's conservative psychic state of resistance. Whereas Chapters
4
–
6
contrast ordinary workers and activists, this chapter compares workers between megacities and lower-tiers. This comparison reveals the impact of economic development on workers' cognition. As development level varies in the megacities and lower-tier cities—with the state, market and capital combined exerting different influence on the working class—workers likewise exhibit a diverse range of subtly different responses to those structural factors.