26.12.2016 | Ausgabe 8/2016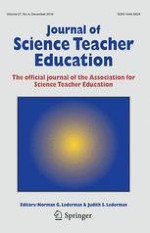 Developing Practical Knowledge of the
Next Generation Science Standards

in Elementary Science Teacher Education
Zeitschrift:
Autoren:

Deborah L. Hanuscin, Laura Zangori
Abstract
Just as the
Next Generation Science Standards
(NGSSs) call for change in what students learn and how they are taught, teacher education programs must reconsider courses and curriculum in order to prepare teacher candidates to understand and implement new standards. In this study, we examine the development of prospective elementary teachers' practical knowledge of the NGSS in the context of a science methods course and innovative field experience. We present three themes related to how prospective teachers viewed and utilized the standards: (a) as a useful guide for planning and designing instruction, (b) as a benchmark for student and self-evaluation, and (c) as an achievable vision for teaching and learning. Our findings emphasize the importance of collaborative opportunities for repeated teaching of the same lessons, but question what is achievable in the context of a semester-long experience.