2015 | OriginalPaper | Buchkapitel
Developing Service Platform for Web Context-Aware Services Towards Self-Managing Ecosystem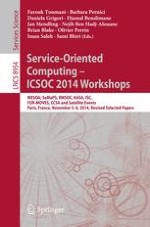 Erstes Kapitel lesen
Autoren: Hiroki Takatsuka, Sachio Saiki, Shinsuke Matsumoto, Masahide Nakamura
Abstract
The convergence of cloud/service computing and M2M/IoT systems provides real-world sensing and actuation as globally distributed Web services. Context-aware services using such Web services (we call them
Web Context-Aware Services,
Web-CAS
) are promising in many systems. However, definition of contexts and Web services to be used highly depend on individual environments and preferences. Therefore, it is essential to have a place for self-management, where individual users can efficiently manage their own Web-CAS by themselves. In this paper, we develop a service platform, called
RuCAS platform
, which works as PaaS for self-managing Web-CAS. In the platform, contexts and actions are defined by adapting the distributed Web services, and every Web-CAS is managed in form of an
ECA (Event-Condition-Action) rule
. Through Web-API of RuCAS, individual clients can rapidly create, update, delete and execute custom contexts and services. To support non-expert users, we implement a GUI front-end of the RuCAS platform, called
RuCAS.me
. A case study of sustainable air-conditioning demonstrates practical feasibility. Finally, we discuss how the RuCAS platform works to achieve self-managing ecosystem of Web-CAS.