01.08.2010 | Ausgabe 4/2010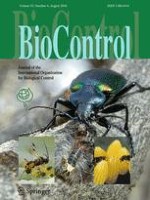 Development and reproduction of
Adalia bipunctata

on factitious and artificial foods
Zeitschrift:
Autoren:

Maarten Bonte, Mohammad Amin Samih, Patrick De Clercq
Wichtige Hinweise
Handling editor: Arne Janssen.
Abstract
The native coccinellid
Adalia bipunctata
(L.) (Coleoptera: Coccinellidae) may be an alternative to exotic species like
Harmonia axyridis
(Pallas) (Coleoptera: Coccinellidae) for the biological control of aphid pests in Europe. The availability of adequate factitious or artificial foods may help optimize its mass production. This study examines the nutritional value of
Ephestia kuehniella
Zeller (Lepidoptera: Phycitidae) eggs plus bee pollen, pea aphids
Acyrthosiphum pisum
(Harris) (Hemiptera: Aphididae) and mixtures of bee pollen and cysts of
Artemia franciscana
Kellogg (Branchiopoda: Artemiidae) and/or a lyophilized artificial diet based on bovine meat and liver. Reproducing adults of
A. bipunctata
were obtained on all diets tested, but immature survival, adult weights, development times and reproductive rates differed among diets. Over 84% of first instars fed on
E. kuehniella
eggs plus pollen or aphids survived to adulthood. Feeding predator larvae on pollen combined only with
A. franciscana
cysts or artificial diet yielded 40–55% immature survival, but survival increased to 74% when all of these components were mixed. Adult weights of
A. bipunctata
on the mixtures of pollen,
A. franciscana
cysts and/or artificial diet were 55–75% of those on aphids or on
E. kuehniella
eggs plus pollen. Lifetime fecundity was superior on
E. kuehniella
eggs plus pollen (1,864 eggs) to that on the other diets (264–889 eggs). The use of mixtures of plant and animal foods for
A. bipunctata
and other predators may contribute to increasing the cost-effectiveness of commercial mass production by reducing inputs of natural prey like aphids, or of nutritious but expensive factitious foods like lepidopteran eggs.