08.03.2019 | Ausgabe 4/2019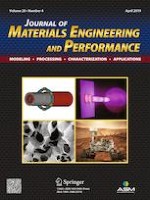 Development of a High-Strength Low-Carbon Steel with Reasonable Ductility through Thermal Cycling
Zeitschrift:
Autoren:

Amir Raza Subhani, Dipak Kumar Mondal, Chandan Mondal, Himadri Roy, Joydeep Maity
Wichtige Hinweise
Publisher's Note
Springer Nature remains neutral with regard to jurisdictional claims in published maps and institutional affiliations.
Abstract
In this research work, cost-effective structural material synthesis routes have been adopted in the form of thermal cycling designed and applied on a low-cost material (AISI 1010 steel). The main synthesis route consists of two-step thermal cycling (designed with respect to iron–carbon phase diagram) combining short-duration holding in upper critical and intercritical temperature regimes and different cooling conditions (forced air cooling and ice-brine quenching). Accordingly, the adopted hierarchical design approach (from nanoscale onwards) with a combination of hard and soft phases (to attain an adequate balance between mutually exclusive strength and ductility properties) results in origin of a novel microstructure. The microstructure consists of dislocation-enriched martensite regions (possessing plate and lath morphologies in 1:4 ratio) containing nanosized cementite particles and α-ferrite regions containing submicroscopic cementite particles. As a consequence, an excellent combination of strength (UTS = 905 MPa) and ductility (%Elongation = 17) is achieved in the synthesized material.