01.04.2013 | Ausgabe 3/2013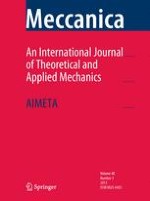 Development of a model for the analysis of wheel wear in railway vehicles
Zeitschrift:
Autoren:

J. Auciello, M. Ignesti, L. Marini, E. Meli, A. Rindi
Abstract
In railway applications, the estimation of the wear at the wheel-rail contact is an important field of study, mainly correlated to the planning of maintenance interventions, vehicle stability and the possibility to carry out specific strategies for the wheel profile optimization.
In this work Authors present a model conceived for the evaluation of the wheel profile evolution due to wear, which is organized in two parts, mutually interactive: a vehicle model for the dynamic analysis and a model for the wear estimation.
The wheel wear evolution is reproduced by dividing the overall chosen mileage to be simulated in discrete spatial steps: at each step the dynamic simulations are performed by means of the vehicle model keeping the wheel profile constant, while the wheel geometry is updated through the wear model only at the end of the discrete step. Thus, the two parts of the whole model work alternately until the completion of the whole established mileage. Clearly, the choice of an appropriate step length is one of the most important aspect of the procedure and it affects directly the result accuracy and the required computational time to complete the analysis.
The entire model has been validated in collaboration with Trenitalia S.p.A and RFI, which has provided the technical documentation and the experimental results relating to some tests performed on a scenery that exhibits serious problems in terms of wear represented by the vehicle ALn 501 "Minuetto" on the Aosta-Pre Saint Didier line.