01.01.2015 | Ausgabe 1/2015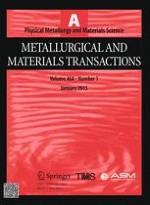 Development of a Press-Hardened Steel Suitable for Thin Slab Direct Rolling Processing
Zeitschrift:
Autoren:

Jewoong Lee, Bruno C. De Cooman
Wichtige Hinweise
Manuscript submitted April 10, 2014.
Abstract
The thin slab casting and direct rolling process is a hot-rolled strip production method which has maintained commercial quality steel grades as a major material in many industrial applications due to its low processing cost. Few innovative products have however been developed specifically for production by thin slab direct rolling. Press hardening or hot press forming steel grades which are now widely used to produce structural automotive steel parts requiring ultra-high strength and formability may however offer an opportunity for thin slab direct rolling-specific ultra-high strength products. In this work, a newly designed press hardening steel grade developed specifically for thin slab direct rolling processing is presented. The press hardening steel has a high nitrogen content compared with press hardening steel grades produced by conventional steelmaking routes. Boron and titanium which are key alloying additions in conventional press hardening steel such as the 22MnB5 press hardening steel grade are not utilized. Cr is added in the press hardening steel to obtain the required hardenability. The properties of the new thin slab direct rolling-specific 22MnCrN5 press hardening steel grade are reviewed. The evolution of the microstructure and mechanical properties with increasing amounts of Cr additions from 0.6 to 1.4 wt pct and the effect of the cooling rate during die-quenching were studied by means of laboratory simulations. The selection of the optimum chemical composition range for the thin slab direct rolling-specific 22MnCrN5 steel in press hardening heat treatment conditions is discussed.