01.01.2014 | Ausgabe 2/2014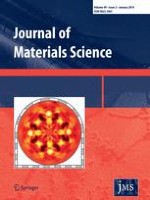 Development of acrylonitrile–butadiene–styrene composites with enhanced UV stability
Zeitschrift:
Autoren:

R. M. Santos, G. L. Botelho, A. V. Machado
Abstract
Aiming to develop acrylonitrile–butadiene–styrene (ABS) composites with enhanced ultraviolet stability, a series of formulations were prepared by melt compounding and evaluated by different characterization techniques. The influence of rutile titanium dioxide (TiO
2
) and its combination with furnace carbon black (CB) on the viscoelastic properties of neat ABS was studied by dynamic mechanical analysis. An increase in the glass transition (
T
g
) dynamics ascribed to the rubbery phase as a function of exposure time was observed. A greater contribution of CB nanoparticles in combination with TiO
2
to minimize the modifications on the
T
g
of the butadienic component was clearly seen. Quasi-static and spectrophotometry results are in good agreement, showing the efficiency of TiO
2
submicron particles and CB/TiO
2
against photo-oxidative degradation of neat ABS. A different behaviour was observed for modified ABS/TiO
2
and ABS/CB/TiO
2
composites with light stabilizers, antioxidants and combinations of them. While the TiO
2
efficiency was enhanced by the incorporation of combinations of light stabilizers and antioxidants, poor results were observed for modified ABS/CB/TiO
2
composites as a consequence of antagonistic interactions. It was concluded that formulations of ABS/CB/TiO
2
with light stabilizers and ultraviolet absorbers are unacceptable for common applications.