26.07.2016 | Original Article | Ausgabe 4/2016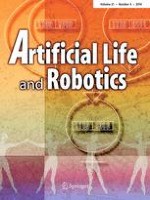 Development of an embedded sensor system for pneumatic artificial muscle proprioceptors
Zeitschrift:
Autoren:

Hirofumi Shin, Hajime Saitoh, Takahiko Kawakami, Satoshi Yamanishi, Shuhei Ikemoto, Koh Hosoda
Wichtige Hinweise
This work was presented in part at the 21st International Symposium on Artificial Life and Robotics, Beppu, Oita, January 20–22, 2016.
Abstract
Spinal reflexes greatly contribute to the control of fast physical interactions (e.g., catching a moving ball) without the influence of higher level control systems involved in human motor control. Therefore, to realize the interactions in robots, it is a useful approach to mimic the nervous system controlling spinal reflexes. To this end, as the starting point for creating spinal reflexes, sensors that measure and encode body movements similar to human proprioceptors are needed to generate signals for the spinal reflexes. In this study, we developed artificial muscle proprioceptors to reproduce spinal reflexes in robots. In particular, we focused on pneumatic artificial muscles and designed an artificial muscle spindle and an artificial Golgi tendon organ, which were integrated with a pneumatic artificial muscle. A compact local measuring system consisting of a microcomputer and amplifiers was developed to easily install and organize the sensors.