01.06.2015 | Ausgabe 3/2015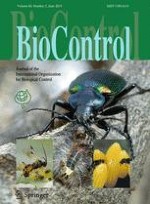 Development of benzimidazole resistant
Trichoderma

strains for the integration of chemical and biocontrol methods of grapevine pruning wound protection
Zeitschrift:
Autoren:

Cheusi Mutawila, Francois Halleen, Lizel Mostert
Wichtige Hinweise
Handling Editor: Jesus Mercado Blanco.
Abstract
In the protection of grapevine pruning wounds from trunk pathogen infection, fungicides provide mainly short term protection while biocontrol agents provide mainly long term protection. The integration of fungicide and biological wound protection could provide better wound protection, but is limited by the susceptibility of the biocontrol agents to the fungicides. Stable benzimidazole resistant mutants were generated by gamma irradiation (250 Gy) from three wild-type
Trichoderma
Pers. isolates (UST1, UST2 and T77) shown to provide wound protection. The wild-type
Trichoderma
isolates were found to be naturally resistant to thiophanate methyl while mycelial growth was completely inhibited by 2.5 μg ml
−1
of benomyl and carbendazim. There was no reduction in biological fitness and in vitro antagonist activity for mutants generated from UST1 and UST2 while the mutant from T77 had reduced fitness and antagonistic activity compared to its wild type. The wild type and the mutant of UST1 were further tested in the field and significantly (P < 0.001) reduced pruning wound infection by
Phaeomoniella
chlamydospora
(W. Gams, Crous, M.J. Wingf. & Mugnai) Crous & W. Gams, when applied alone and in combination with thiophanate methyl and carbendazim, respectively. The combination of the mutant UST1 with carbendazim gave the highest reduction of infection compared to the rest of the treatments when
P. chlamydospora
was inoculated 24 h after pruning. The
Trichoderma
transformants generated in this study can be applied in combination with benzimidazole fungicides for a more effective and sustainable wound protection.